How To Find The Best Filtered Water Dispenser Singapore. – Purity
Water is the most important thing for humans. It's more than just a necessity of life, it's an integral part of our everyday existence. You need water to do just about anything, and without it, your body dries up like a raisin in the sun.
So why are so many people dehydrated? The answer lies in their inability to filter out toxins from their drinking water, which can lead to severe health problems such as kidney stones or even cancer.
Here's how you can find the best-filtered home water dispenser for you!
Find out what type of filter you need.
Water is considered 'unfiltered' until it's been treated at some point.
Many un-treated water machine sources have disease-causing bacteria and various other nasty things that you don't want in your system, so having a filter on hand is important.
There are three basic types of filters to choose from:
Inline Filters:
These direct direct piping water dispenser filters attach directly onto the faucet itself and work by pulling water from the main supply line before it reaches your tap.
They're a good solution for people who like to travel often or who are concerned that their drinking water is too far away from their kitchen sink.
Undercounter Filters :
If you're not prepared to lose valuable counter space, an under-counter filter is a viable option for you.
These filters are installed directly beneath your sink and fit over the faucet there, filtering out any impurities before it comes into contact with you or your food.
Find out how many people you would like your system to serve.
look at the output of your filter, and make sure it will provide enough drinking water for all the members of your household. If your filter has a lower output than you need, it might be wise to get two systems.
You can set one up in the kitchen and another in the dining room or family room so that everyone gets their own filtered water supply without having to move their glass around.
You should also take note of how much space you have available for each system since they come in different sizes depending on how many people they're intended for.
Decide how you will be using your filtered water, room temperature water, hot or cold water?
If you'll only be using it for drinking room temperature water, you can get a simple countertop system or a smaller under-counter model. However, if you plan to use it in other ways such as cooking, washing dishes, or making coffee. then make sure your filter comes equipped with a connection you can use for that purpose.
You should also look at the filtering capacity of your system to make sure it is large enough to handle all these tasks.
Choose between a portable or non-portable water dispenser.
Some systems are designed to mount under your sink or on the countertop where you can keep them filled with water at all times, but others are small and portable enough that you can move around from room to room as necessary.
If you aren't sure whether or not this will be a big problem for you, choose something that's more flexible.
Look at what kind of technology filters are best suited to your needs.
The internet is an amazing thing, but there's no point in getting connected if you don't know what you need either! If you're looking for bells and whistles like smart sensors, digital displays, and smartphone compatibility, then you've come to the right place because there are plenty of models that specialize in these 'in-demand features.
However, if you're looking for something simpler and more traditional, then that's ok too! Much best-filtered water dispenser Singapore is still your cup of tea.
Disregard the high price tags and focus on what you need.
Let's not beat around the bush here, best-filtered water dispensers are expensive.
A lot of money goes into designing these systems as well as all the technology that goes along with them so that they can meet your needs. The last thing you want to do is blow all that cash without getting something in return!
Make sure your system has everything you need before adding it to your cart and going through the checkout process.
Keep in mind how much energy the filter takes.
There's no point in getting a system that uses up all your electricity since it will be less efficient than a smaller one that does the same job.
Look at the energy rating on your potential new system to ensure it won't cost you too much on your monthly bills! Make sure there aren't any hidden costs involved with installation and replacement filters either.
One of the biggest things to look at is the cost of replacement filters.
Most manufacturers include them with your purchase, but you need to know how much they're going to cost down the line so that you don't get hit with an unexpected bill.
Overall, when it comes to shopping for a new system there are plenty of factors you have to take into account.
If you can't find this information on your own, you should definitely ask someone in the sales department.
Look at how much maintenance your new filter is going to need.
Any system you choose should be incredibly easy to look at and keep clean, although this will be different depending on which type of filtration technology it uses.
Some water dispensers have separate filters for the cold and hot water sides of your system, so you'll need to clean them more often than others.
If this sounds like too much of a hassle for you, then go for an unbreakable system that doesn't require as much cleaning up!
If there are any special instructions for maintenance, you should make sure you take plenty of notes during the sales pitch to ensure your filter runs smoothly for a long time!
Hot and Cold water dispenser we suggest from PuritySingapore:
FEATURES
Benefits for Your Health
Save Your Money
Enjoy the Great Taste of Water
Consume Only
Specification
Model: DWP-SL 218
Dimension: 22cm(W) x 48 cm(D) x 49 cm(H)
Cold: 5 degree C
Hot: 85 to 90 degree C
CHILD Safety Lock Lever
Energy Saving:
Cooling: 100W (+/-)
Heating: 450W (+/-)
Cold Water Dispenser Installation
We provide high-quality, quick water dispenser installation as well as post-sale servicing. If you decide to purchase a water dispenser for your home or business, our professionals will assist you in swiftly and simply installing it where you need it, which may require drilling or plumbing work.
We promise prompt and competent installation as well as complete client satisfaction. So, if you've chosen to obtain a water dispenser in Singapore, get in touch with us for additional information, a quotation on installation, and the cost of a water dispenser in Singapore.
Factors for consideration
Buying a water bottle could be a daunting experience given the abundance of options available across the market. We start with what factors we should consider before buying a water disposer. Buyers have to be familiar with costs and quality.
Benefits of a water dispenser
Water dispenser uses different purification techniques to provide you with fresh and chemical free tap water that retains all essential nutrients. You can also take cold and hot water from tap water. It has its advantages and health advantages making it an important home appliances item.
Conclusion: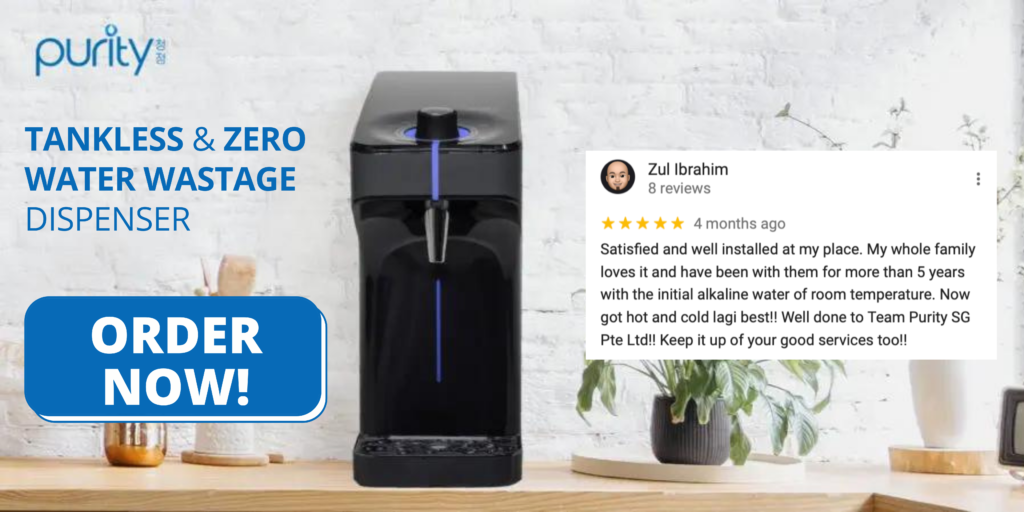 We can recommend filters for your home and help you get them set up so that you never have to worry about drinking unhealthy water again! If you want a way to filter the water in your home, we have just what you need.
Our team of experts is ready and waiting to partner with you! If all of this sounds intimidating and you want help enacting these principles, let us know.