Water is a clear substance that we cannot live without. Even if the amount of water in the environment is what we think it is, the actual amount of water is only 2.5%. Of that, half is locked in polar ice caps and glaciers. The remaining 0.5%, usually only the agricultural and industrial sectors use any for use.
If our population increases, we will need to find better and more efficient ways to use the resources. A lot of factories are being built in the area, which will result in more water usage. The area's population is expected to grow, so there will be an increased demand for water. More and more virtual water is being used for cotton and meat production. The water must be recycled. It can make it possible to conserve water.
Climate change can endanger vital water resources by making them more vulnerable to drought and other threats as the world warms. The future of the planet is dependent on how well we treat water. That's why it's essential to know if water is sustainable.
What is water sustainability?
A nation that can be self-sufficient in water can be categorised as a state of water sustainability. Water supplies around the world are being negatively impacted by climate change. Global warming is causing the rain to become unpredictable. This kind of sustainable water requires that the economics stack up and that the water delivery process is as efficient as possible. That is why is water sustainability important.
What is sustainable water management?
Sustainable water management means using water to make it easy to meet current, ecological, social, and economic needs without compromising the ability to meet those needs in the future.
As water managers, they should look beyond their jurisdiction's boundary and see how their activities are related to those of other jurisdictions in the region. They should work collaboratively to find resilient solutions that minimise risk.
Singapore's water sustainability strategies?
NEWater
New Water, which makes recycled water, was launched by the Singapore Government as the new water sustainability strategies. It is a water plant that recreates used water, making it clean, safe, and reclaimed. They first started selling their products in Singapore in 2003, when they opened two water plants, a visitor centre, and a water Museum. This museum helps visitors understand and appreciate the water sustainability journey.
Here is the process of the NEWater recycling process:
Microfiltration is purifying water that uses a membrane process to remove dissolved solids.
Reverse osmosis is the second stage in the desalination or purification of water. It blocks out all the particles except for water so that anything coming in, whether good or bad, will be filtered out.
Ultraviolet disinfection, If this is the final cleaning stage, the surface must be disinfected before exchanging the air.
Desalinate water
Desalinated water is converting seawater into drinking water using advanced membranes. There are 3 desalination plants in Singapore, and by the end of 2020, two more soon will be launched.
3.5kWh/m3 of energy is used to make seawater safe enough to drink since Singapore uses reverse osmosis for its desalination. Safe drinking water can be produced by removing dissolved salts and minerals from the water.
Reservoir
Reservoirs are large pools of water used to collect water from a river or stream. Singapore has 17 reservoirs island-wide and uses local catchment techniques that span over two-thirds of the island's land. Rainwater is easily transported into the reservoirs.
The reservoir areas in Singapore are stunning and are a favourite location for nature lovers and runners. The Marina reservoir is the largest artificial reservoir in Singapore and provides about 10% of the city's drinking water.
Things Singaporeans can do to create a sustainable water
Turn off the unused tap
Cut your shower time
Recycle your water by using a left-over fruit cleaning water to water your plants
Only wash your clothes when it's fully loaded
Fix your plumbing leaks, etc.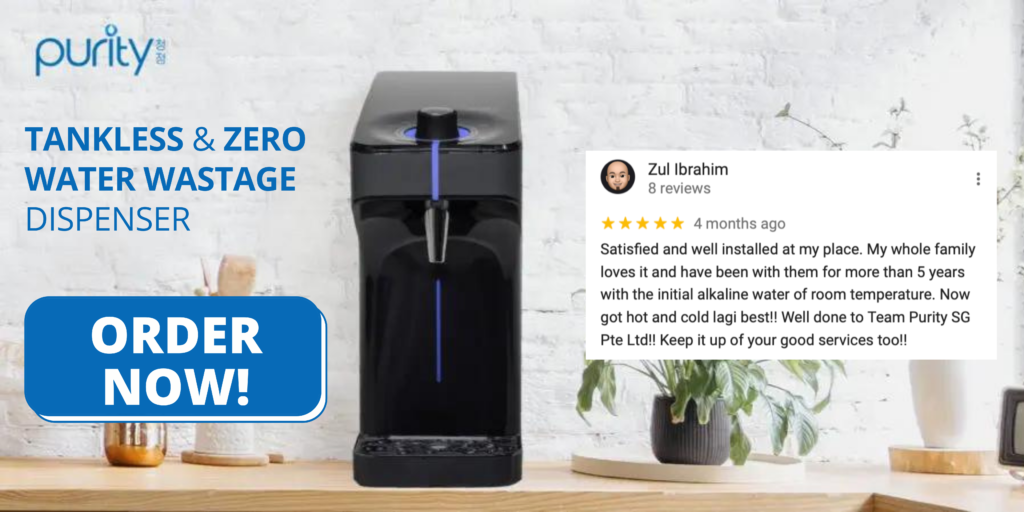 Small things create significant impacts
A significant, lasting impact can be achieved even by small steps. If you apply the above things to your daily habit, you'll be able to start adopting a zero water wastage lifestyle. Purity hot and cold water dispenser kaline water filter system is an excellent example of an appliance that supports zero water wastage. Is there a better way to drink healthy alkaline water while supporting zero water wastage movement?
Call us at +65 6493 2500 | (+65) 9384 7881 or visit our office at 3 Ang Mo Ko Street 62
#07-04 Link@AMK Singapore 569139 for more information.