5 Facts About Water Sustainability and How to Achieve it
Without compromising the future ability to provide the capacity and quality, sustainable water systems should give adequate water quantity and appropriate water quality for a given need. Water systems in the realm of sustainable development can include systems where water use has traditionally been required. Waterless toilets and waterless car washes help alleviate water stress and secure a sustainable water supply. Here are water sustainability articles.
What is water sustainability?
Ensuring there is enough water to meet multiple needs is sustainable water. Climate change impacts, such as a lack of rain or a flood, will not affect the water supply. The economics stack up in matching supply and demand, and the water delivery process is as efficient as possible. Water efficiency can be achieved using traditional water treatment technologies with renewable energy.
If you want to have a more sustainable water system, the top cities have been doing it for a long time. It is a water- and a sanitation-related project that involves protecting the environment, people's health, and the economy by creating jobs and increasing the productivity of businesses. Resilience in the face of extreme weather events may contribute to flooding and scarcity.
Basics of Singapore water policy
Ensuring water supply for all
There are four sources of Singapore's water supply: local water, imported water, NE water, and desalinated water. The Four National Taps is a diversified water supply strategy that ensures a robust water collection for generations to come.
Conserving water resources for Singapore water sustainability
Ensuring that water demand doesn't rise at an unsustainable rate is what we need to do. Our water supply will be sustainable if we look at ways to manage demand and conserve.
How do we create water sustainability?
Here are water sustainability strategies to help you start a zero water wastage movement
Resilience
Major cities worldwide have placed resilience planning on the agenda, an initial step to becoming more sustainable. Disaster recovery and the scope of strength are not the same. Employment, income distribution, social cohesion, and other factors not usually built into water management are examples of society's soft, resilient infrastructure.
Efficiency
Water resources are being depleted at an alarming rate. People must become aware of their role in saving water resources. To understand the system's vulnerabilities, risks, and stress points, utility companies need to assess potential financial impact and risk of exposure. These vulnerabilities can threaten the city's operations, quality of life, and even the city's competitive edge. They provide valuable insights for planning and future projects.
The benefits of considering sustainability during infrastructure planning include:
Optimizing environmental, economic, and social benefits can be achieved by setting goals and selecting projects through a transparent and inclusive process.

Consistency can be achieved through alternatives that address both community and utility goals.

The theutility'sslongg-term technical, financial, and managerial capacity needs to be improved.

Create green space and multi-purpose urban solutions
In addition to its large capacity and the efficiency of its design, green infrastructure is also more eco-friendly because it provides wildlife habitat while reducing the need for expensive and inefficient water treatment systems. Green infrastructure can provide valuable green space and recreation for the residents of a city, reduce the urban heat island effect, and enhance biodiversity and ecological resilience.
The South Los Angeles Wetlands Park provides rare green space to an underserved community of Los Angeles. The railyard was transformed into a park with trails, boardwalks, picnic areas, and other features.
Manage sustainable water resources
Sustainable water resources management is a part of integrated water resource management. Water management is a partnership between stakeholders, including government agencies, community groups, and other organizations.
Water is vital to human life. It provides clean drinking water and cleans our air. A sound water system that considers all the factors that affect its sustainability will significantly impact the environment.
The UN has outlined areas where sustainable water resources management will need to secure sustainable water for all.
Agriculture
Industry and energy
Domestic sector
Cities
Ecosystem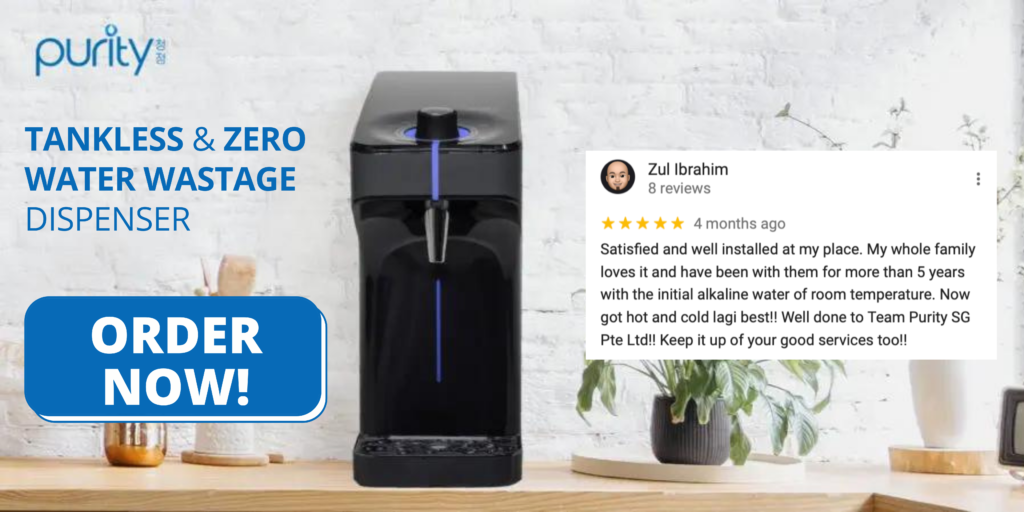 We can start by supporting the zero water wastage movement
Changing your lifestyle to begin creating a habit of zero water wastage is not easy, and you have to get used to it. It is necessary developeate sustainable water for our grandchildren and others. However, you can start slowly by drinking a healthy alkaline water
With Purity water dispenser Singapore, one of Singapore's best alkaline water machines included in the movements of water sustainability companies that are strongly care about providing Singapore with the best alkaline water with a machine that supports zero water wastage. Contact us for more info at +65 6493 2500 | (+65) 9384 7881 or visit us directly at 3 Ang Mo Ko Street 62 #07-04 Link@AMK Singapore 569139.