We all drink water and most of us will probably admit that the taste of tap water isn't very appetizing. It is actually loaded with impurities, including chlorine, which makes it unhealthy. To make matters worse, many of the plastic bottles we use to carry our water are bad for the environment. What if we had a safe and convenient way to keep drinking pure, clean water? Fortunately, Singapore has a wide array of ways to keep you hydrated. There are both filtration options and non-filtering options available to you. But which one should you choose?
Water in Singapore is definitely safe for consumption
Singapore's water meets both the World Health Organization's drinking water requirements and the US Environmental Public Health (Quality of Piped Drinking Water) Regulations, according to our Public Utilities Board (PUB). Yes, you may drink straight from the tap; it's quite safe. PUB actually encourages you to drink directly from the tap rather than utilizing filtering equipment like water filters and purifiers. What is the reasoning for this? If you don't clean or change your filters on a regular basis, you risk bacterial development and other issues.
Although the PUB takes every effort to guarantee that Singapore's tap water is safe to drink, there are still some regions that are outside its authority. HDB rooftop tanks, for example, are maintained by town councils, and while the PUB requires building owners and town councils in charge of structures with water tanks to hire a professional water service plumber to examine these tanks on a regular basis, things have gone wrong on several occasions.
Why decided to install a water filter
is water filter necessary in singapore? Apart from the study mentioned above, we also had to think about:
Guard against rusted or aged pipes
Chlorine removal
Avoids the trouble of constantly heating water
Aside from boiling or filtering water to maintain cleanliness, many homes also do so to remove the strong chlorine odor prevalent in tap water. (Backstory: PUB supplies more chlorine to Singapore's water to destroy bacteria and lessen the danger of water-borne illness transmission.) While the quantity of chlorine in our water isn't hazardous to our systems, many individuals find that it gives the water a disagreeable odor).
Criteria for a water filter
It's simple enough, but it takes a bit of work to narrow your choices. The first step is to decide what type of water you want to drink. Is it safe to drink tap water? Will it give you stomach cramps or nausea if you drink it? Do you prefer filtered or bottled water? Then there are decisions
Cartridges that are affordable
able to provide both hot and cold water
Replacements should be done every four months or less.
Simple to replace, ideally DIY so I can save money on maintenance.
Are water filters and filtration systems expensive?
A sophisticated water filtration system can cost a thousand dollars or more, but there are other inexpensive non-boiling water filtration systems that can suffice. The Purity hot and cold water dispenser Singapore water filter, which costs around $100 and combines energized ceramic, activated carbon, and calcium ionized clay to purify your water and eliminate hazardous chemical pollutants like chlorine, fluoride, and germs, is our recommendation.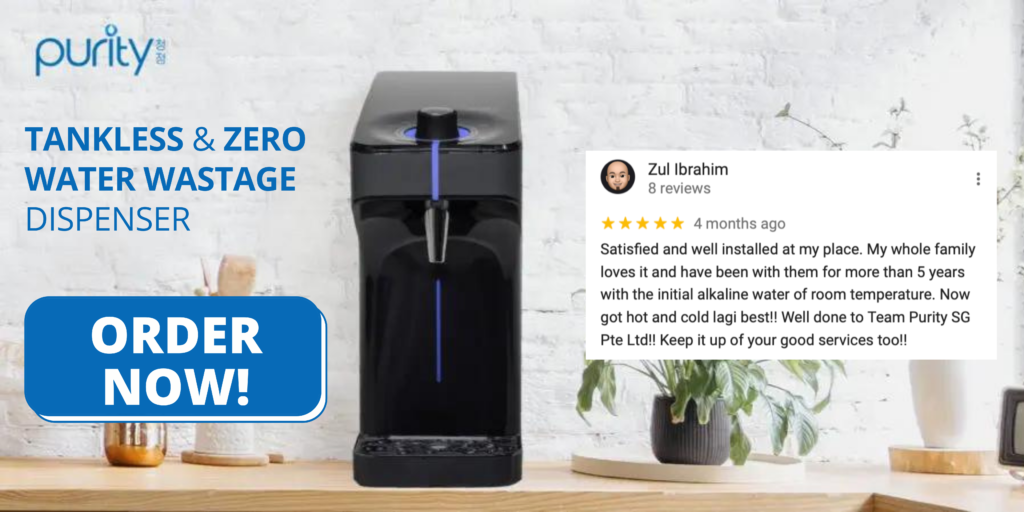 With many years of experience in filtration, Purity Singapore is being used in medical centers, cafes, hotels, spas, offices and more. With ingredients from the US, Japan and Korea, Purity Singapore is pioneering and redefining water filter standards today in Singapore. And now, you can experience Purity Singapore in your own household for yourself.