5 Benefits of Owning a Zero Water Filter in Singapore: The Eco-Friendly Choice for Your Home – Purity
Are you aware that the water we drink comes from a vast number of sources? From rainwater, ground water, to underground water, water supply pipes, and many other sources.
And not only that, the water we drink is also heavily polluted with chemical pollutants and contaminants. So if you have a zero water filter installed in your home, you would not only be helping yourself but also helping protect the environment around you.
Zero water filters are one of the most popular water filters in Singapore because of their eco-friendly features and affordable price. If you don't have a zero water filter, you are basically drinking dirty and dangerous water that contains a large number of harmful contaminants and chemicals in it. And when you drink that, it can easily damage your body, your health, and your entire environment.
In this article, I'm going to show you 5 benefits of owning a zero water filter in Singapore. So if you want to start benefiting from the many amazing things that come with having a zero water filter, be sure to read this article thoroughly!
1. Zero Water Filters are Eco-Friendly
Unlike traditional water filters that use disposable filters, zero water filters use a reusable filter. They use less plastic waste and energy than traditional water filters, making them a more sustainable option for your home. This means that there is less waste and fewer plastic bottles ending up in landfills.
One zero water filter can replace up to 300 disposable water bottles. That's because Zero Water filters remove virtually all dissolved solids from your tap water, down to 000 parts per liter. This leaves your water tasting incredibly fresh and pure.
2. Zero Water Filters Produce Cleaner Water
Zero water filters can be a good option for those looking for a water filtration system. If you are a concerned person about the water you drink, then a water filter is a good choice. The filters will filter the water and remove the bad taste and smell from the water. This is because these filters are able to remove a variety of contaminants, including lead, mercury, and chlorine. Zero water filters are also able to reduce dissolved solids because they use activated carbon and ion exchange resin, making your water taste great and ensuring that you're getting the best possible quality of water.
3. Zero Water Filters are Affordable
The Zero Water filter is one of the best and most affordable ways to get clean water. In fact, they are one of the most affordable water filters on the market. They range in price from around $30 to $60, making them a more affordable option than many other water filters.
However, you need to be careful if you want to buy zero water filters online. Some users have complained about the quality of the water filter, saying that it doesn't work as well as they had hoped. That is why it is best to find a lot of information about the best water filters in Singapore as well as looking up water filter Singapore reviews on the internet.
4. Zero Water Filters are Easy to Use
Zero water filters are some of the easiest to use filters on the market today. With such a simple design, these filters can be up and running in a matter of minutes. And unlike many other filters, zero water filters do not require you to replace any filters or membranes.
The filters are also easy to install. They connect to your tap in just a few minutes and don't require any tools. You can even install them yourself without any help. All you have to do is fill the filter with water, attach it to the top of your bottle, and drink. It's that easy!
5. Zero Water Filters are Long-Lasting
Zero water filters are designed to last for a long time. Compared to the traditional and other water filters, zero water filters are more durable, easy to clean and can be used again. This means that you can use it for a long time. Normally The filters should be replaced every three to five months or when the filter indicator light turns red. Some filters even last for a year before they need to be replaced, making it a more economical choice than other filters on the market.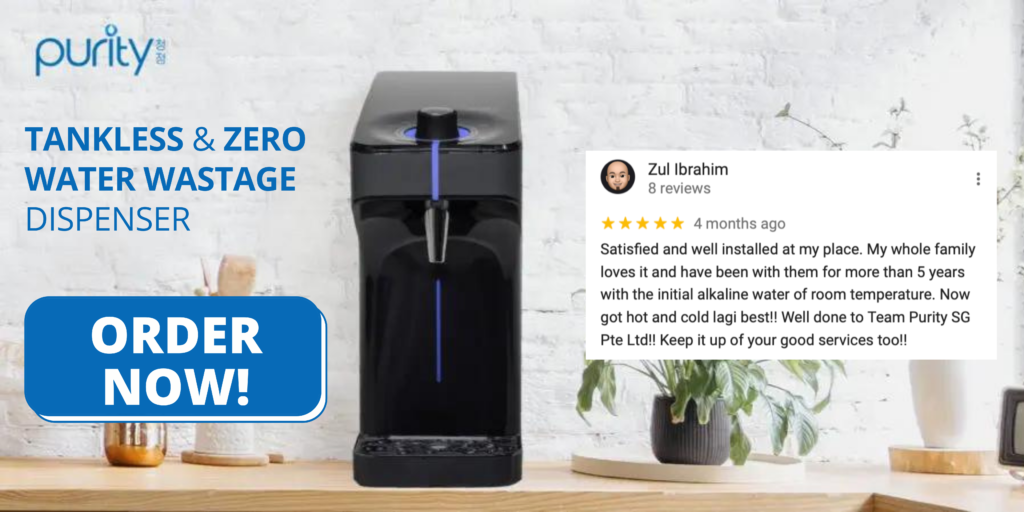 Get Your Zero Water Filter With Purity!
In Singapore, most people use a water filter to remove the bad taste and smell from their water. But if you are looking for the best water filter, you need to consider the benefits of zero water filters. They can help you reduce your water usage, save money, and ensure that you are getting the best possible quality of water. At PuritySingapore, we believe that everyone should have access to clean, safe water- regardless of budget. That's why we offer some of the best water filters and water purifiers in the market, at a fraction of the cost of bottled water. Purity water dispenser Singapore offers Zero water filters that remove all of the harmful chemicals from your water, making it safe to drink. Not only that, but our filters also reduce scale build-up, meaning your appliances will last longer and your dishes will be spotless! They also make a great choice if you want to make your home more eco-friendly.