Maintaining a fit body could be done by following several healthy tips including drinking the right amount of water. The consumed water also has to be the clean one, so that it will prevent us from bacteria and toxins that get into our body. To obtain clean water to drink, one of the methods you can do is getting a home water dispenser Singapore!
A water dispenser that could purify your tap water is useful to support a healthier lifestyle. Home water dispenser from Purity Singapore is one of the water purifier dispensers that will satisfy your healthful needs! With an avant-garde filtration process, a home water dispenser from Purity Singapore will let you enjoy the great taste of water!
Did you just discover the greatness of a water dispenser for home and thinking of getting one? Here are several things you have to note before buying a water dispenser.
A Guide for Purchasing a Home Water Dispenser Singapore
There are factors for you to consider in order to avoid mistakes in buying a water dispenser Singapore or water purifier, it is recommended for you to follow this guide below.
Know Your Type Hot and Cold Water Dispenser
Home water dispensers have various types. A wall or fridge-mounted, a floor-standing or a tabletop water dispenser can be your options. Either a hot or cold water dispenser, you should pick the types appropriate to your needs and don't forget to look for your storage space.
Smart and easy to use
PuritySingapore still maintains a user experience we value. It has adaptive tactile feedback enabling it to avoid touching anything. A further additional volume adjustment is available in the form of 180ml, 220ml/1000ml respectively for accurate and easy distribution. Simply one button controls the volume. There is a charging indicator on the filter that automatically monitors filter conditions. Thus ensure that all of the dispensers are in clean condition. This feature is perfect for formulating milk for babies. You will also not need trouble with the sensitive ability of this screen; it is an intelligent sensor and feedback is supplied.
Types of water dispensing
In Singapore, bottled water dispensers or clambed / plug water dispensers are the two types of water providers to be purchased. Bottled water dispensers are the kind you probably know of as they're often observed in offices and shops. A point de passage (POU) plugs directly to the water line to minimize the need for replacing any water bottles. Moreover, its water is constant. It utilizes 5-10 gallons of Water placed by the dispenser or on the bottom of the dispenser. While it's running a POU plugged into the system you don't have to replace the water bottles.
Cost
Actually, buying a water dispenser is cost-saving enough compared to purchasing mineral water each day. However, you still have to be more aware about the price because it could be the major factor for a water dispenser. Choose the water dispenser that the quality is worth your budget.
Water Flow
The water that comes out of tabletop water dispenser or any other dispenser types will have different rates. When the water is poured from the nozzle, some dispensers will have a heavy flow and others will have a less flow.
The Noise
This might be a minor factor, but we believe that many of you prefer water dispensers with less noise. Generally, the heavier the unit, the more noisy it gets. An instant hot water dispenser with a quiet noise machinery would be very pleasant to have rather than those with loud water pouring.
The Design
A slim space-saving is probably the best water dispenser design you could own. Those of you might think that design is the least factor to consider before choosing a water dispenser, but if you're picking a dispenser for a public space such as your office or your store, the appearance of your dispenser is kind of important.
Capacity
The natural choice is one to use an extensive capacity water tank for families. It could also be cost-effectually better to use a PI Unit instead of bottled Water. Several POU devices are tankless but others come with large tanks that store water to the water you provide for ease of use. A flurry of drinkables implies they need to replenish reusable bottles a lot and it might even force you to buy individual bottles. They also consume more room and take more space for work and for home. .
Tank or Tankless?
A Tankless water dispenser and tank water dispenser has many differences in terms of space, electric-saving, and hygiene. When it comes to space, a tankless water dispenser allows you to have a slim design while a tank one will have a bulkier design.
On the electric-saving side, the tankless hot water dispenser will require less electricity than the tank one because the heating machine will stop when it is not in use. For hygiene, water dispensers without a tank will have no space for bacteria to store up while a tanked dispenser will build up bacteria inside.
Benefits of a water dispenser
The filtration of water uses special purifying techniques to provide you with clean-water water free of chemicals. They're easy to use durable and have measurable health benefits making it a great home item.
Where to Buy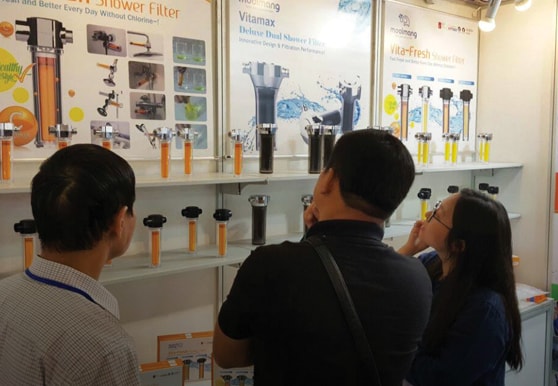 The store where you get water dispensers is as important as the quality of the water dispenser itself. So, where to buy water dispensers in Singapore? It is noteworthy for you to buy a water dispenser from a well-certified company . The products from PuritySingapore are SWA (Singapore Water Agency), TUV SUD, as well as ALS certified. The water filter system provided by Purity Singapore will give you pure alkaline water which is very good for your physical health.
After reading the guides above, have you decided what kind of dispenser you will buy? Make sure that you purchase the appropriate water dispenser for your home!
Purity Singapore: The Best Choice of Water Purifier Products
Purity Singapore is the best home and office water filter dispenser with various facilities such as water filter system, alkaline water filter, and undersink. Additionally, we offer a fast and high-quality dispenser installation service. With Purity, you will get your water and body well-cleansed. Call us today or our store's door at 3 Ang Mo Kio Street is open wide for you!